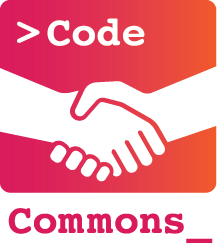 New community of practice for people in Tucson working with code and building software
Winter 2023: meet Wednesdays 2-6 PM at CATalyst Data Studio, UA Main Library (map)
Bring your computer, your projects, and your ideas
Code Commons provides a physical space for community and collaboration. Join us to share experience, learn, mentor, discover opportunities, and work on your programming projects in the presence of others doing the same.
Code Commons also aims to provide the best aspects of workplace culture for people who are otherwise isolated from other developers. This includes (but isn't limited to) people working on free, libre, open-source software (FLOSS), and software for public service missions.
Is Code Commons for me?
Probably! Code Commons welcomes you whether you're learning programming for the first time, or you have worked with code for decades. Whether or not people would stereotype you as a student, a hacker, or a software engineer. Whether or not you're part of the university.
Maybe your work is mostly research with incidental programming. Maybe you're in a less-technical role like project management. Maybe you make mostly-physical, incidentally-digital things. Maybe you use a computer in creative ways beyond programming, like writing, design, and making art. Maybe you're a civic hacker, using public data to inform policy and governance. Maybe you build proprietary software, but you are open-minded about FLOSS. Code Commons welcomes all of these people, and more.
The only people who are not welcome are:
People who are there mostly to sell a product or service to other attendees
Recruiters seeking attendees' personal information to sell access to them
People who would not abide by the following code of conduct
Code of Conduct
Code Commons is a professional and inclusive gathering that does not tolerate harassment or threatening behavior. Community members must treat each other with the respect and excellence that a modern workplace would expect. People attending Code Commons must also abide by the University Libraries code of conduct.
Can you help with my programming project?
Maybe! Code Commons isn't exactly a tutoring or consulting service. We can't promise that someone will be ready to help when you show up. But if you're stuck on a problem, someone might be able to help, or point you in the right direction. We also know a lot of other developers, and we might be able to point you to someone more helpful.
If you come asking for help, please be patient and respectful of other people's attention. They may also be struggling with something. And if you can, stick around to help others too.
How will Code Commons evolve?
Code Commons might grow into a more permanent space where people can gather on any day at any time. It could also grow to another location in Tucson. If you're not in Tucson, we specifically encourage people to start new chapters of Code Commons in other cities! Please see this blog post for more about the background and vision for Code Commons.
How is Code Commons different from other local groups?
Code Commons is not a maker space per se, but it is hosted at one, and you could say Code Commons is the software-oriented aspect of a maker space.
Research Bazaar is focused on data science. Some people who work with code are data scientists, but many others are not. In the future, Code Commons seeks to establish an every-day space, which ResBaz does not offer.
Data & Viz Drop-in is a weekly event for helping with data science projects. Code Commons is broader than data science, will become more frequent, and is focused more on building community than helping visitors.
Tucson Python Meetup offers approximately monthly events for people working with the Python programming language. Code Commons is a more frequent and less-structured gathering. We do write Python but we aren't limited to it.
Tucson Functional Programmers offers approximately monthly events for people working with functional programming techniques and languages. Code Commons is more frequent, and we love functional code but are not limited to it.
Finally, Code Commons is not a hackathon. Hackathons tend to be intensive one-time events with a goal of launching a new project quickly, while Code Commons is more about the everyday practice.
Who is behind Code Commons?
Right now, Code Commons is organized by Chris Martin. I work remotely for Indiana University on Jetstream2 and Exosphere, but I live in Tucson. I'm building Code Commons with guidance from local colleagues and friends including Devin Bayly, David LeBauer, Jen Nichols, Jeff Oliver, Julian Pistorius, and Mariah Wall. You can email me, chris at c-mart dot in.
News